Meri ek haseen shaam wali mahila se phir phone per baat huayee, aur is baar hum dono ka kisi hill station per jaane ka mann hua. Wo, chahti, thi, ki wo mere saath 2-3 din ke liyea pahardo per jaye aur hum ek saath kuch time bitaye.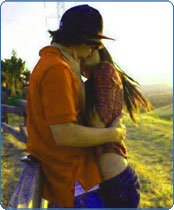 Ab hum dono ka plan bana, raat ki train se humein jana tha, to shaam ko hum 6-7 baje mile, 8 baje ek pub mein gaye, 2-3 drinks lagaye, khana khaya, aur 10 baje wali train main, jisme hum dono ka reservation tha, chale gaye. Subeh kareeb 8 baje hum ab hill station per the.
Bheed hoone ki wajeh se hume koi hotel nahi mil raha tha, To, maine kaheen maloom kiya, aur ek choote se hotel mein humein ek kamra mil gaya, use us room ko dekhkar bahaut gussa aaya. Lekin main kuch nahi kar sakta tha, To, maine use samjhaya, ki kal hum kaheen-na-kaheen kisi aur jegah ya kisi naye hotel main shift kar langae. Usne maan liya aur kamre ki thodi se sardi ne uska dimaag bhi thanda kar diya.
Din ka 1 baja tha, aur ab mujhe nahaane jana tha, maine apni daaru kholi, aur ek peg peene laga, yeh dekhkar ki main akela pee raha hoon, usne bhi mera saath diya, aur hum dono ne din mein nahaane se pehle 2-2 pegs lagayea, aur ek doosre ko santusht kar dala. Usne garam paani mangawaya, aur nahaane chali gayee. Main thande paani se hi naha kar, fresh ho gaya, aur ab hum dono bister per shaam 6 baje tak daaru peete rahe, khana khaya aur so gaye.
Subeh kareeb hum dono 7 baje ute, fresh hue, breakfast khaya aur ek baar phir masti karne ka mood hua too, hum phir ek doosre ke saath jud gaye. Use ab yeh hotel room accha nahi lag raha tha. To, maine paas hi ke ek resort mein uske maalik se baat ki aur usne ek bahut hi badhiya room apne resort mein hum dono ke liyea book kar diya. Ab hum wahaan pahuach gaye, lekin us room ki safai ho rahi thi, to hum pahardo mein, ped ke chaav mein baithe, mausam ka anand le rahe the. Use wo jegah bahaut pasand aayee, Meri tareef kiye bagair woh nahi ruk rahi thi, kyunki usne us terah ka nazara pehli baar dekha tha.
Din ka kareeb 11:30 hua tha, aur hum dono ka mood pahardo ki wadiyoon mein thandi jegah mein daaru peene ka hone laga. Mere paas 1 liter ki cold drink thi, jo bottle main aadhi ho chuki thi, Maine usme daaru milayee aur din mein, dono daaru peena shuru ho gaye, sabko laga, jaise hum cold drink pee rahe the.
Kareeb ek ghante tak hum dono bahar baite daaru peete rahe. Hum dono ko kaafi acchaa nasha ho chuka tha, aur ab apne room main jaane ka time aa chuka tha.
Hum dono kamre me gaye, darwaza band karte hi, gana chalaya, aur dono nashe mein dance karne lage, usko peeche se kaske pakadkar, usko kiss karte hue, ek doosre ke kapde uttrate hue, hum abhi bhi dance kar rahe the, hum dono ko bahaut maza aa raha tha. Pehli baar hum dono nagnavastha mein dance kar rahe the. Gaane chalte rahe aur hum bister per aa gaye, ek doosre ko choomte hue, ek doosre ka ehsaas karte hue, na jaane hum kitni baar jude, nahi maloom.
Shaam ko kareeb 6:30 per hum dono bahar ek pahadi per gaye, aur wo wahaan ek plain se jageh per let gayee, main uske upper let gaya, kyunki mujhe maloom tha, ki wahaan per koi nahi aayegaa. Aur ab khule aasmaa ke neeche hum dono ki prem lila phir shuru ho gayee. Hum dono ek doosre ko kiss karne lage. Mere haath uske kapdo ke ander the, wo bhi kam nahi thi aur usne bhi mere kapdo ke ander apne haath daal diye, mujhe jayda takleef nahi huayee, kyunki wo long skirt mein thi.
Ab usne mera shishan nikala, aur use baith kar choomna shuru kar diya, jab usme itni uttejana ho gayee, to phir wo mere upper baith gayee, wo apni panty pehle hi utar kar apne purse mein daal chuki thi, ab hum dono khule aasmaan ke neeche khule mein sambhog kar rahe the, hum dono ko thund mein, khule mein, bahaut maza aa raha tha. Yeh shayad hum dono ka pehli baar itna khule mein tha. Usne apni zindagi mein kabhi aisa nahi kiya tha. Hum dono ko kareeb 10-15 minute lage, aur phir thund jyada hoone ki wajeh se dono kareeb 7:30 baje wapas kamre mein aa gaye.
Hum dono ne wo yaadgaar 4 din un pahardo per bitaye, wo yadein aaj bhi hain, uska aaj bhi mann hai, ki ek baar aur pahardo per main uske saath jayoon. Ab dekhte hain...